15 January 2015
Reston, Va. — On 9 January 2015, the four-year anniversary of the unsolved double homicide of a young mother and child, Columbia, South Carolina Police Chief, Skip Holbrook, released a computer-generated image of a person-of-interest that resulted from information obtained through a new type of DNA analysis, called "DNA phenotyping," which predicts a person's physical appearance from a DNA sample.
Four years ago, 25-year-old Candra Alston and her 3-year-old daughter, Malaysia Boykin were murdered inside their Brook Pines Apartments. In the intervening years, after interviewing over 200 people and collecting DNA samples from 150 people, investigators of the Columbia Police Department (CPD) were no closer to finding a suspect and the Alston double murder was at risk of becoming another crime statistic in the annals of cold cases.
Determined to bring the perpetrator to justice, the CPD recently reprocessed DNA collected from the crime scene using a new service from Parabon NanoLabs called Snapshot™. With funding from the U.S. Department of Defense (DoD), the company has been developing Snapshot for nearly four years. Far different from traditional DNA analysis techniques, Snapshot gives crime solvers a completely new way to use DNA.
Ellen McRae Greytak, Ph.D., Parabon's Director of Bioinformatics explains, "Human DNA encodes the genetic information that largely determines a person's physical appearance. A copy of this genetic code or 'DNA blueprint' exists in every cell of the body, which makes DNA a potentially invaluable source of investigative information. However, traditional DNA forensic analysis ignores genetic content and treats DNA as simply a biometric identifier, a "DNA fingerprint" that can be used for matching to a known individual."
Snapshot takes advantage of modern DNA technology to read the parts of the genome that code for the differences in physical appearance between people. Using sophisticated computer algorithms that have been trained on thousands of reference samples, Snapshot translates this raw genetic code into predictions of physical traits. These are combined to create a highly accurate composite profile, or "digital mugshot" of an unknown suspect or unidentified remains.
With Snapshot, there will be no reason to let cases go cold waiting for a DNA database hit. Investigators can generate new leads or narrow down a pool of suspects, keeping the investigation active. Snapshot's future will bring renewed hope to the families and friends of crime victims that their loved ones will get the justice they deserve. In the case of Carl Alston, the victim's father, Snapshot is helping to bring his family tragedy closer to closure.
"I am pleading with the public to help find the person who murdered my daughter and granddaughter," said Carl Alston. "It's hard for me to come to grips with what happened and I still have trouble really believing my daughter and granddaughter are gone."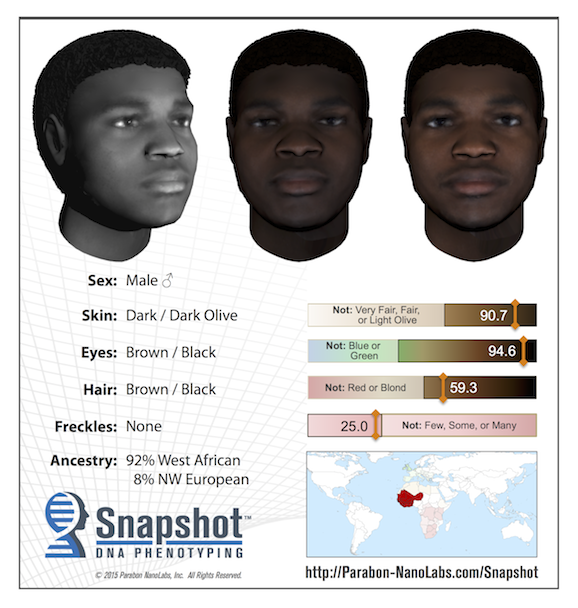 Snapshot composite of a person-of-interest produced by Parabon NanoLabs;
released 9 January 2015 by the Columbia SC Police Department.
In the 9 January 2015 Columbia SC Police release, CPD is asking for citizens to report any information they may have regarding this case. http://www.columbiapd.net/pdfs/news_2015/010915_01.pdf.
More information can be found at http://parabon-nanolabs.com/snapshot or by calling (703) 689-9689 x250.
About Parabon NanoLabs, Inc.
Parabon NanoLabs is a vertically integrated DNA technology company that develops next-generation forensic and therapeutic products, which leverage the enormous power of DNA. Staffed by a uniquely qualified team of scientists and technologists, with expertise ranging from bioinformatics and chemistry to computer science and pharmacology, Parabon is bringing to market revolutionary new products and services made possible by recent advances in DNA sequencing, analysis and manufacturing technologies.
Media Contacts
Parabon NanoLabs
Paula Armentrout
P: 703.689.9689 x250
media@parabon.com
PR Contact
Laura Burgess Marketing
P: 252.288.5805
laura@lauraburgess.com