26 June 2015
Reston, Va. (June 2015) – Parabon® NanoLabs, Inc. (Parabon) proudly announces that the 'Face of Litter' public service campaign, conceived by Ogilvy & Mather Hong Kong and which features Parabon's Snapshot™ DNA Phenotyping technology, has been nominated for a Cannes Lions Innovation Award. As part of the annual Cannes Lions International Festival of Creativity, the Innovation Award nominations are bestowed on organizations providing a unique combination of creativity, data and technology innovation for game-changing applications across the globe.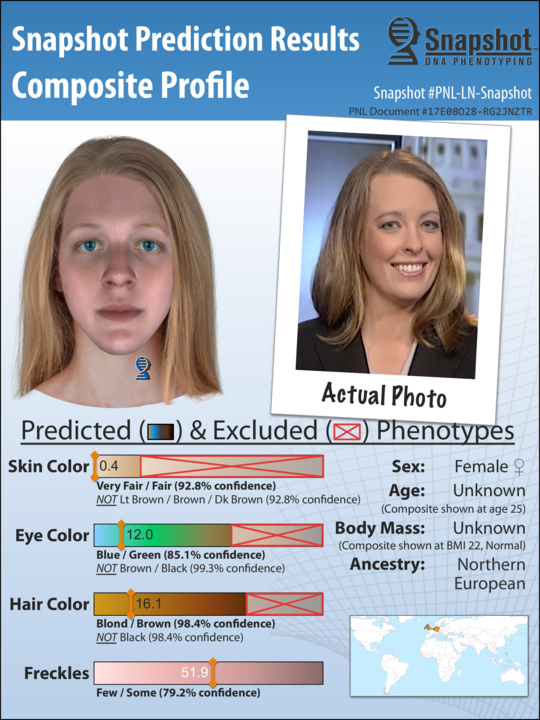 Snapshot™, a new type of forensic DNA analysis software that accurately predicts the physical appearance and ancestry of an unknown person from a DNA sample, and recently featured in the 'Face of Litter' campaign, was originally developed to aid law enforcement investigators in generating leads in cold cases and to identify unknown remains. The 'Face of Litter' initiative was created to make Hong Kong citizens realize that littering is no longer an anonymous crime and to encourage them to take personal responsibility for the city's littering problem. Snapshot's ability to generate investigative leads, narrow suspect lists, identify unknown remains and, now, reveal the everyday litterbug demonstrates the effectiveness of using DNA phenotyping to help identify criminals and victims, past and present.
Starting with biological evidence found at a crime scene that leads to a DNA extract, Snapshot produces a detailed report and composite profile that includes eye color, skin color, hair color, freckling, face morphology and detailed biogeographic ancestry. Armed with this scientifically objective description, law enforcement officials can conduct investigations more efficiently and close cases more quickly.
Watch a video about Snapshot to learn more about how it is utilized to help the law enforcement community with active and cold cases.
Cannes Lions Innovation is an annual two-day event that takes place in Cannes, France. The technologies and campaigns nominated for award focus on the intersection of data, technology and creative ideas. Parabon representatives will give a Snapshot technology presentation to judges in Cannes on Wednesday 24 June. Awards will be announced on Friday 26 June.

About Parabon NanoLabs, Inc.
Parabon NanoLabs is a vertically integrated DNA technology company that develops next-generation forensic and therapeutic products, which leverage the enormous power of DNA. Staffed by a uniquely qualified team of scientists and technologists, with expertise ranging from bioinformatics and chemistry to computer science and pharmacology, Parabon is bringing to market revolutionary new products and services made possible by recent advances in DNA sequencing, analysis and manufacturing technologies.

About Ogilvy & Mather
Ogilvy & Mather is one of the largest marketing communications companies in the world. It was named the Cannes Lions Network of the Year for three consecutive years, 2012, 2013, and 2014; and the EFFIEs World's Most Effective Agency Network for two consecutive years 2012 and 2013. The company is comprised of industry leading units in the following disciplines: advertising; public relations and public affairs; branding and identity; shopper and retail marketing; health care communications; direct, digital, promotion and relationship marketing; consulting, research and analytics; branded content and entertainment; and specialist communications. O&M serves Fortune Global 500 companies, as well as local businesses through its network of more than 500 offices in 126 countries. It is a WPP company (NASDAQ: WPPGY). For more information, visit http://www.ogilvy.com/ or follow Ogilvy on Twitter at @Ogilvy and on Facebook.com/Ogilvy.

About the Hong Kong Cleanup Challenge
Hong Kong Cleanup is celebrating its 15th anniversary this year, together with organizer Ecozine and co-organizer The Nature Conservancy. The Challenge has become a civic movement, and is being hailed as the region's largest volunteer environmental event. It has engaged over 200,000 Hong Kong people in cleaning up litter from our beautiful coastlines, country parks and urban areas. The campaign is raising awareness, empowering citizens, advocating for change and collecting data to help reduce waste at the source. http://www.hkcleanup.org/
Media Contacts
Parabon NanoLabs
Paula Armentrout
P: 703.689.9689 x250
nanolabs@parabon.com
Ogilvy & Mather Hong Kong
Anna Mugglestone
P: +852.2884.8685
anna.muglestone@ogilvy.com
PR Contact
Laura Burgess Marketing
P: 252.288.5805
laura@lauraburgess.com